Chemical weapons inspectors in Syria will be permitted to visit the site of an alleged chemical attack on Wednesday, Russia has said.
The international team has been in the country since Saturday, but has not been allowed to visit Douma.
The attack on 7 April prompted military strikes on Syrian government targets by the US, UK, and France a week later.
Syria and its ally Russia deny any chemical attack took place – with Russia calling it a "staged thing".
Early on Tuesday, Syrian state media said the country's air defences had responded to a missile attack over the western city of Homs.
The missiles targeted Shayrat air base, it said – but did not say who fired the missiles.
Another report, from the pro-Iranian Hezbollah militia, said that Syrian air defences had intercepted three missiles targeting Dumair military airport, north-east of the capital Damascus.
A Pentagon spokesperson told Reuters: "There is no US military activity in that area at this time."
Early on Saturday morning Syrian time, the US, UK, and France launched a coordinated missile strike on multiple targets in the country.
The operation was in response to a chemical weapons attack the three nations say was carried out by the government of Syrian President Bashar al-Assad, which targeted civilians and killed dozens.
Investigators from the Organisation for the Prohibition of Chemical Weapons (OPCW) are in the capital, Damascus – but have been waiting to begin their inspection.
When they arrive at the site on Wednesday, it will be 11 days since the attack. They are expected to gather soil and other samples to help identify the substances – if any – used in an attack.
The US envoy to the OPCW, however, expressed concern that Russia had visited the site and "may have tampered with it" to impede the investigation.
But in an interview for BBC's Hardtalk, Russian Foreign Minister Sergei Lavrov said: "I can guarantee that Russia has not tampered with the site."
He said the supposed evidence the US, UK, and France said they had was only "based on media reports and social media" and that such evidence was a "staged thing".
Mr Lavrov and others have also criticised the three countries for carrying out the strikes before the OPCW team could conduct their investigation.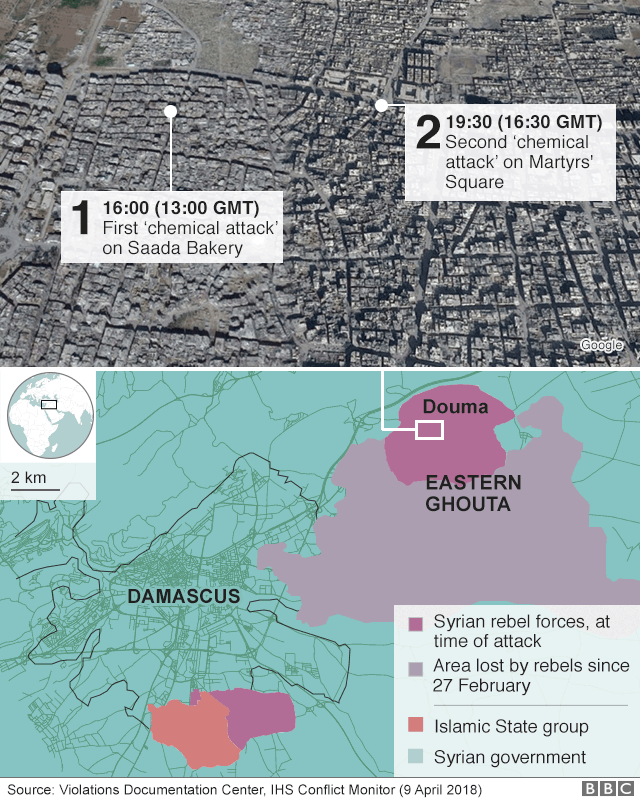 Source: BBC News
http://www.bbc.com/news/world-middle-east-43792120